The personal zzzine of darngooood
01/06/2014
02/07/2014
That moment when you remember that you're a hardworking adult and can have pizza and cocktails whenever you want.
02/23/2014
Nothing better than waking up and remembering that today isn't a day you have to take a shower.
04/17/2014
Surprisingly easy to get work done whilst wearing googly eyes on my glasses. http://t.co/mA0uuU2Mjw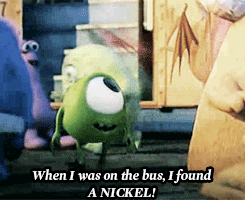 06/03/2014
If I had a nickel for every time I drop my phone on my face whilst using it when laying down...
06/08/2014
A letter I wrote my Mom from summer camp. I guess I was always a city girl at heart. http://t.co/pe2B2KqXER
07/16/2014
I'm rejuvenated about humanity knowing that everyone's immediate reaction about the AirBnb logo is BUTTS! BALLS! LADY BITS! MAN BITS!
07/30/2014
Nighttime twitter pals. Look! A new twitter handle! A new weird avatar! A new website!
11/24/2014
I'll never compromise my weirdness for professionalism.